Major Taylor – Who is He?
Marshall W. ("Major") Taylor, a professional African-American bicycle racer, was born in Indianapolis, Indiana, on November 26, 1878.
Check out the old newspaper clippings to get a taste of Major Taylor's life in the late 1800's. See the link below for a comprehensive history and more clippings about Major Taylor.
Click on the thumbnails below to see a large image of the clipping.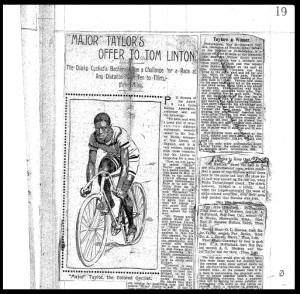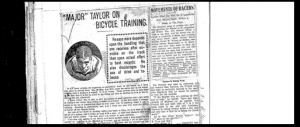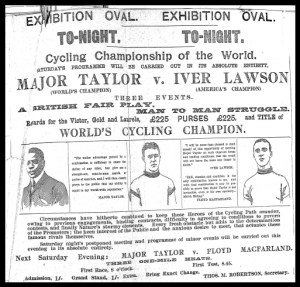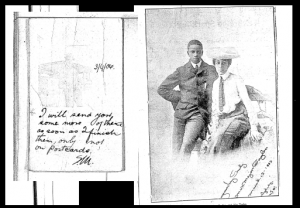 The University Library System at the University of Pittsburgh recently digitized some previously-microfilmed scrapbooks of news clippings documenting Marshall W. "Major" Taylor.
The clippings run from 1897-1904. There are six scrapbooks and they are each available as PDF files.
See many more images and read about the Major Taylor collection here.
Scroll to the bottom for the digitized content links. FYI, we've found that Firefox's built-in PDF viewer has a really hard time rendering PDFs from scanned images; you're better off using Chrome or just downloading them. Also, if you're on a mobile device, be aware these are really big PDFs — like in the 100-300MB range. And finally, the images are from microfilm created in the 1980′s so the image quality varies.
According to Aaron Brenner, University of Pittsburgh, he's "never seen this much content on Major Taylor (and cycling events around 1900) gathered together before. Hope you enjoy."
Abstract of the contents:
The scrapbooks document, through newsclippings from American and foreign presses, the climate of racial opinion in America and abroad as well as Taylor's reactions along with providing more factual information about professional cycling as a national and international sport. Digital reproductions of the microfilm are available online.