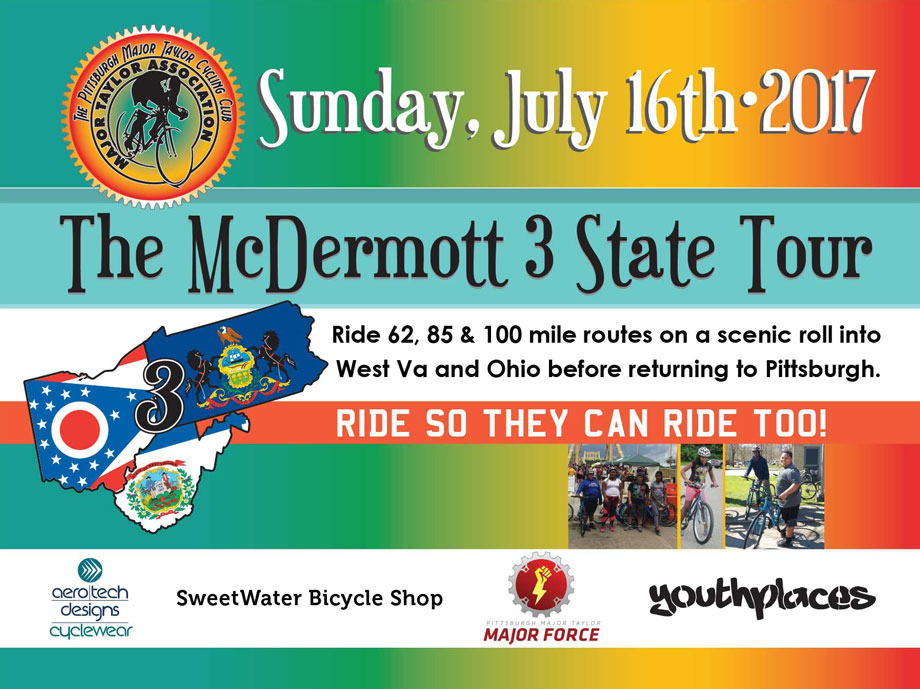 RIDE DESCRIPTION
The 2017 PMTCC McDermott 3-State Tour is the Major Taylor signature bicycle ride held on July 16th, 2017. The ride starts in Pittsburgh and heads west entering into the states of West Virginia and Ohio. This is a scenic road ride with a few long hill climbs, rolling hills and some flat roads.
Three McDermott 3-State Tour options are 85 and 100 mile routes beginning in downtown Pittsburgh at the Golden Triangle Bike Rental located on the Three Rivers Heritage Bike Trail and a metric century (62-mile) route beginning in Neville Township, PA. All tours allow riders to ride in all three states.
The McDermott 3-State Tour follows PA state routes 51 S and 151 S before heading west to RT 30 leaving Pennsylvania and riding to Chester, West Virginia to see the world's largest teapot. After leaving the "teapot" cyclists continue riding along RT. 30 on the Lincoln Highway Bridge to cross the Ohio River into Ohio riding along SR 39 riding towards Midland, PA and then using RT 68 East to enter Pennsylvania.
In Pennsylvania, cyclists will pass through the towns of Midland, Industry, Beaver, Bridgewater, Rochester, Monaca, Aliquippa, Ambridge and Sewickley before crossing back over the Ohio River to Coraopolis picking up SR 51 North to return to Neville Township. The 85 and 100 mile route riders will continue on to Pittsburgh completing the tour.
This is a supported ride which includes SAG, a Subway restaurant lunch voucher, route cue sheets, and painted road arrows showing the turns.

The ride has been named One of the 10 Best Rides in the Pittsburgh Area by Upgruv.
Check out the full article here.
---
EVENT DETAILS
100 & 85 Mile Ride
Check-in: 7:00am
Ride Start: 7:30am
Cyclists will meet at the Golden Triangle Bicycle Rental, 600 First Avenue, Pittsburgh, PA 15219 along the Three Rivers Heritage Bike Trail. Registration for this ride begins at 7:00 am with a 7:15 am pre-ride meeting and cyclists will depart promptly at 7:30 am. Free parking is provided at the Second Avenue Parking Lot or Garage Parking is available on First Avenue (fee charged). Either parking lot allows access to the bike trail for riders to ride to the starting location.
RIDE MAPS:
100 Mile Century
85 Mile Route
62 Mile Ride
Check-in: 7:30am
Ride Start: 8:00am
This ride begins at the Neville Township Port Authority Park N Ride located at Hubert Ave off Grand Ave near the Kings restaurant in Neville Township, PA. Registration begins at 7:15 am with a 7:45 am pre-ride meeting and cyclists will depart promptly at 8:00 am meeting up with the cyclists riding from Pittsburgh on the 85 and 100 miles route. Free parking is available at the Port Authority Park N Ride in Neville Township.
RIDE MAP:
62 Mile Metric Century
Rest Stops and Lunch Provided
Cyclists registering for the 62, 85 or 100 miles ride will be given a voucher to purchase lunch at either the Subway in Midland or Beaver, PA. Rest stops for food and water available along all routes.
Cost of Registration
Online pre-registration for the McDermott 3-State Tour is $40. Event day registration is $50. The first 100 riders who pre-register for any of the 62, 85 or 100 miles rides will receive a long-sleeve T-shirt.
Information for All Tour Rides
Helmets are required for all rides. Children under the age of 18-years of age must be accompanied by an adult. All cyclists are required to sign the PMTCC ride waiver. All rides will be held rain or shine.
HOTEL INFO
The Omni William Penn Hotel, located only blocks away from the ride start location, is available for out-of-town riders.
Reserve now & pay later!
Link to the Omni, via expedia, click here.
---

JERSEYS:
At the time of registration, all riders have the opportunity to purchase a McDermott 3-State Tour bicycle jersey. The jerseys are made by Aero Tech Designs in Pittsburgh. The cost of a jersey is $75. Purchase of the McDermott 3-State Tour jersey is available on the registration page. Jerseys will be made available up to 2-weeks following the tour date and will end on Monday, August 8, 2016. Sizing for the bicycle jerseys runs big so it is suggested to size down if you want a form fit.
Order your jersey now, click here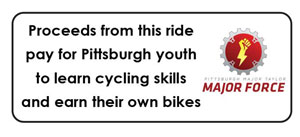 ---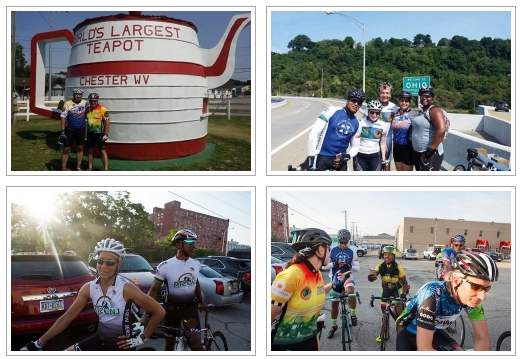 Galleries of pictures from the 2016 ride
---
For more information about sponsorship opportunities, e.g., support rest stops or lunch, for the ride, please email majortaylorpittsburgh@gmail.com.
Can't ride, but would you like to volunteer and help out with the ride, please send an email to majortaylorpittsburgh@gmail.com.
Can't ride, but want to help to buy a bike or donate to the Major Force Cycling youth cycling program, donations accepted at http://pmtcc.org/donate/.
---
Support our sponsors! Visit their sites now :

---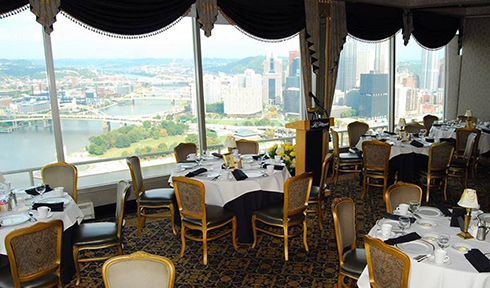 OPENING RECEPTION, Friday July 14, 2017 at the LeMont
This year's McDermott 3-State Tour will kickoff in style when we host the opening reception at the iconic LeMont Restaurant in Mt. Washington on 1114 Grandview Ave, Pittsburgh, PA 15211. The LeMont provides spectacular views of Pittsburgh. Valet parking is available for a fee (not included in the dinner costs) and you can also get there by using the Duquesne Incline. Map to the LeMont is here
The dinner will take place on Friday, July 14th, starting with happy hour from 5-7pm then the dinner will follow. There will be a pasta buffet featuring 4 different types of pasta along with all the usual side dishes.
Seating is limited and the cost will be 25.00 per person, click on the link below to reserve your seat for the Opening Reception. Only paid reservations will be accepted.
This is just one of the activities we have planned for the participants of this year's event!