Our annual fundraiser ride which allows us to provide bikes and cycling instruction to at-risk youth was renamed in 2016 in remembrance of our member Micheal McDermott who played an integral role in the Major Force Youth Cycling Program.
Sun, July 16, 2023, 6:30am – 1:00pm

---
RIDE DESCRIPTION
Ride Date: July 16, 2023
$40 EARLY buyers – through 5/31/2023. Price bump $50 – $60 after 5/31/23.  
The 2023 PMTCC McDermott 3-State Tour (M3ST) is in its 14th year. Our ride starts in Southwest Pennsylvania, heads west, entering into the states of West Virginia and Ohio. This is a scenic road ride with a few long hill climbs, rolling hills and some flat roads. 
Two routes are available to cyclists, 62 mile (metric century) and a 100 mile (century).
Rest stops and snacks will be provided along with SAG support. 
All riders must make it to Sweetwater Bicycle ( final rest stop) by 2:30pm. Rest will close at that time. Riders will then be encouraged to complete without support or take the SAG vehicle back to the start.
WARM-UP RIDE
Those wishing to spend the weekend with us can take part in a warm up ride.
Our warm up ride is July 15th at 9am. Take a tour of the City while getting ready for the main event.
The ride begins here (link to map): Second Avenue Parking Plaza, Second Avenue, Pittsburgh, PA 15282.
Lodging:
Hotel Fairfield on Neville Island ; 5850 Grand Ave, Pittsburgh, PA 15225
Masks and proper distancing is required at times when you are in proximity of others.
---
START LOCATION
---
IMAGES
See Images from the previous M3ST Rides, click here
---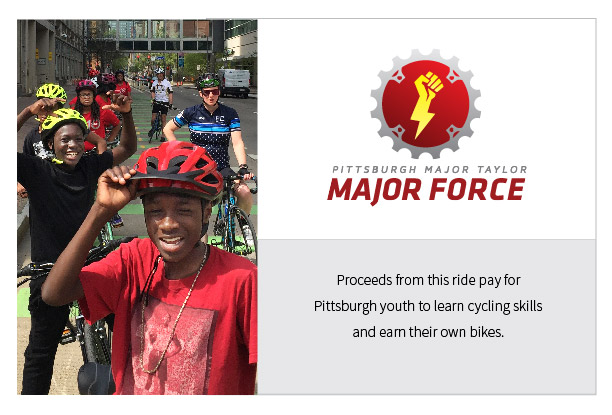 SPONSOR
For more information about sponsorship opportunities, e.g., support rest stops or lunch, for the ride, please email majortaylorpittsburgh@gmail.com.
VOLUNTEER

Can't ride, but would you like to volunteer and help out with the ride?  Please send an email to majortaylorpittsburgh@gmail.com
DONATE
Can't ride, but want to help to buy a bike or donate to the Major Force Cycling youth cycling program? Donations accepted at http://pmtcc.org/donate/.
---